TALENTED KIDS
IRISH ENTERPRISE AWARD
BEST ALL-AGE TALENT AGENCY 2023
Founded in 2002 and known as Ireland's preeminent home for talent, Talented Kids & MVW Talent Agency offers its services to children and adults alike and has cultivated a diverse range of opportunities for its clients and students over the last 20 years. We find out more from the firm's Founder as it celebrates success in the Irish Enterprise Awards for the third year running.

Many a childhood dream revolves around a life in the limelight, be it emulating their favourite actors and singers with a hairbrush in the mirror or in mini performances stag. for their parents.

However, for the past two decades, Talented Kids & MVW Talent Agency has been making these dreams a reality by guiding children and adults towards their entertainment career goals.
Comprising of two entities, Talented Kids serves as the initial encouraging force in a child, life, inspiring them to be confident in themselves through performing arts and also if desired, to chase their goals in the dance, drama, singing, and musical theatre worlds, whilst MVVV Talent Agency, an offshoot of Talented Kids, services its Adult clients through engaging them castings in Film, TV, Radio, Theatre, Voice Overs, Modelling a. more.

MVW Talent Agency, by experienc. agent Maureen Victoria Ward, can help them break into the entertainment world by offering workshops and finding suitable auditions and castings.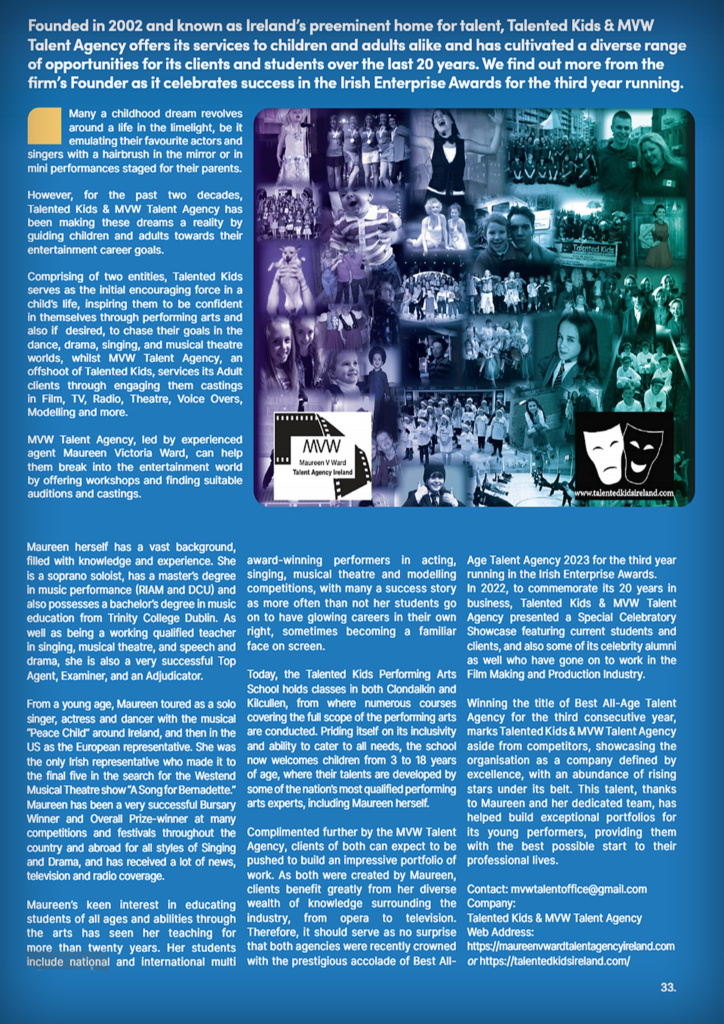 Maureen herself has a vast background, filled with knowledge and experience. She is a soprano soloist, has a master's degree in music performance (RIAM and DCU) and also possesses a bachelors degree in music education from Trinity College Dublin. As well as being a working qualified teacher in singing, musical theatre, and speech and drama, she is also a very successful Top Agent, Examiner, and an Adjudicator.

From a young age, Maureen toured as a solo singer, actress and dancer with the musical -Peace Child" around Ireland, and then in the US as the European representative. She was the only Irish representative who made it to the final five in the search for the Westend Musical Theatre show…1g for Bernadette, Maureen has been a very success.' Bursary Winner and Overall Prize-winner at many competitions and festivals throughout the country and abroad for all styles of Singing and Drama, and has received a lot of news, television and radio coverage.

Maureen, keen interest in educating students of all ages and abilities through the arts has seen her teaching for more than twenty years. Her students include national and international multi award-winning performers in acting, singing, musical theatre and modelling competitions, with many a success story as more often than not her students go on to have glowing careers in their own right, sometimes becoming a familiar face on screen.

Today, the Talented Kids Performing Arts School holds classes in both Clondalkin and Kilcullen, from where numerous courses covering the full scope of the performing arts are conducted. Priding itself on its inclusivity and ability to cater to all needs, the school now welcomes children from 3 to 18 years of age, where their talents are developed by some of the nation, most qualified performing arts experts, including Maureen herself.

Complimented further by the MVW Talent Agency, clients of both can expect to be pushed to build an impressive portfolio of work. As both were created by Maureen, clients benefit greatly from her diverse wealth of knowledge surrounding the industry, from opera to television. Therefore, it should serve as no surprise that both agencies were recently crowned with the prestigious accolade of Best All-Age Talent Agency 2023 for the third year running in the Irish Enterprise Awards.
In 2022, to commemorate its 20 years in business, Talented Kids & MVW Talent Agency presented a Special Celebratory Showcase featuring current students and clients, and also some of its celebrity alumni as well who have gone on to work in the Film Making and Production Industry. Winning the title of Best All-Age Talent Agency for the third consecutive year, marks Talented Kids & MVW Talent Agency aside from competitors, showcasing the organisation as a company defined by excellence, with an abundance of rising stars under its belt. This talent, thanks to Maureen and her dedicated team, has helped build exceptional portfolios for its young performers, providing them with the best possible start to their professional lives.